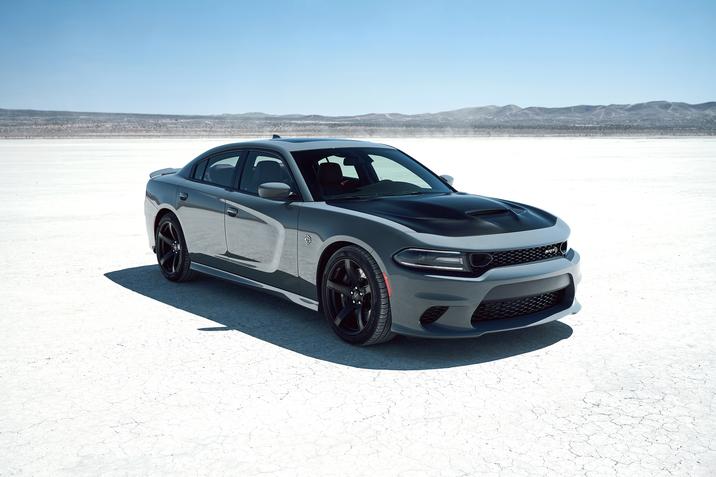 Performance Lineup for 2019 Dodge Charger Revealed
When the day comes that you are considering a Dodge Charger in any of its high-caliber versions, you know that it is a great day! In 2019, the Dodge Charger muscle-car truly power shifts into amazing territory with all manner of exciting drivetrain changes and style offerings. Performance certainly gets a boost for the Charger in 2019 with a new RWD GT model and a new-to-the-SXT model version, plus, the Charger SRT Hellcat model rocks an After-Run Chiller coupled with Torque Reserve! But we are getting ahead of ourselves a bit here, continue with us to know more fully what is coming to the Charger in 2019!
The Dodge Charger Performance Revisions in 2019
The SXT model has a relatively fuel-conserving standard Pentastar 3.6-liter V-6 that sees a solid 292 horsepower and 260 lb.-ft. of torque-- and is ready to rock with remote start, electronic stability control, and responsive electric power steering. New for 2019, the Dodge Charger SRT Hellcat and R/T Scat Pack come in swinging with standard performance augmentations, such as Launch Assist and Line Lock, a new performance grille with dual air inlets, Torque Reserve, and more. The R/T Scat Pack sports a naturally-aspirated 392 HEMI V-8 getting 485-horsepower and 475 lb.-ft. of torque, then makes things real using Launch Control, a feature that harmonizes the engine, transmission, driveline, and suspension into optimized launching and unswerving sudden acceleration. Launch Control is now also controllable from the dashboard with a switch on the R/T Scat Pack, and it has an option for Bilstein 3-mode Adaptive Damping Suspension! Over to the sinister-looking SRT Hellcat model, there is an After-Run Chiller that works to maintain the cooling of the supercharger when the engine is shut off, which means it's ready to race quicker than other vehicles are traditionally. The Torque Reserve feature is achieved via pre-filling the supercharger using valve management as well as fuel flow rates, all adding up to more torque available when hitting the gas pedal from a stopped position. Charger GT and R/T models both welcome chassis advancements plus the intro of a performance hood with air induction and a decklid spoiler. Further, the R/T has a 5.7-L HEMI V-8 attaining 370-horsepower and 395 lb.-ft. of torque and has items such as a standard performance suspension, discriminating steering, a 2.62 rear axle ratio, and a steering wheel with paddle shifters. The GT just keeps going for gold with elements like a wholly revised front end and hood, the popular Pentastar 300-horsepower and 264 lb.-ft. of torque V-6 engine, a standard performance suspension, a 3.07 rear axle ratio, amended steering with paddle shifters, and even Dodge Performance Pages on the 8.4" Uconnect screen. 
2019 Charger Basic Info
The four-door Charger will have a TorqueFlite eight-speed automatic transmission no matter the model, and some will have steering wheel-mounted shift paddles, just so you know what you are working with. Dodge shifted around the Charger roster in 2019 to make room for not only a new SXT all-wheel-drive (AWD) model but also a new Charger GT rear-wheel-drive (RWD) performance model, never mind a ton of appearance and performance additions. There is a large panoply of hard-charging colors for the exterior available across all models, a few of which we'll name here: Octane Red, Pitch Black, B5 Blue, Maximum Steel, Plum Crazy, TorRed, and Triple Nickel. The Charger is so well-regarded that for the last 5 consecutive years, it has been the segment leader in sales. With that in mind, the 2019 Charger should be shipping to our lots near the third quarter of 2018-- give us a ring about them and we'll keep you posted!
2019 Dodge Charger Outer Appearance Revisions
Let's take a moment and outline some of the exterior and interior features!
SRT Hellcat: This model has the new performance grille with twin inlets that channel cooler air into the engine bay, and it has new features such as a Satin Black painted hood option, badging on the instrument panel, an Alcantara cabin package, and an option for 'Brass Monkey'-style 20" forged wheels.
R/T: This model sees the new performance hood as well as matching fascia, sculpted side sills, and a spoiler. There can also be 20" Satin Carbon & Black Noise wheel styles, Houndstooth bolstered performance seats, and even a 'Dark Dub Plate' instrument panel.
R/T Scat Pack: This model has a new Scat Pack bee badge on the decklid and the seats and has an available painted 'Satin Black' hood and/or 'Dual Carbon' striping.
SXT: You will find a capless fuel filler, 12-volt power outlets (3), auto halogen projector headlamps with LED accents, as well as cruise control as standard issue in the SXT for 2019. It also can opt for items like the Houndstooth cloth seats, the new Cold Weather Package, and/or the Blacktop package.
SXT AWD: Get this one if you want in an attractive new Caramel Nappa leather interior with the new 19-inch Black Noise wheels (that are within the optional Blacktop Package). It looks great any way you get it, but this really adds a visual punch!
GT: This fresh-faced model enables buyers to get the new Cold Weather Package which has accommodations such as a heated steering wheel, heated cloth driver seats, and heated passenger seats. It also can carry items like the Houndstooth sport seats, the Dark Dub Plate instrument panel, and it certainly ensures that you are noticed with its sculpted side sills, fascia, and performance hood.
In Conclusion
Let's not forget either that the 2019 Charger SRT Hellcat still stands tall as the speediest and most power-packing sedan in the world, due in no small part to the supercharged 6.2-L HEMI V-8 that distributes a prodigious 707-horsepower and 650 lb.-ft. of torque! That alone certainly gets attention, but behind that there is a well-designed muscle-car that is reliable for everyday driving as well as getting in your fix for accelerator-happy moments! Why not stop on by and chat us up about Chargers, we're ready anytime you have a moment! In the meantime, take a quick peek at our
current Charger Inventory!