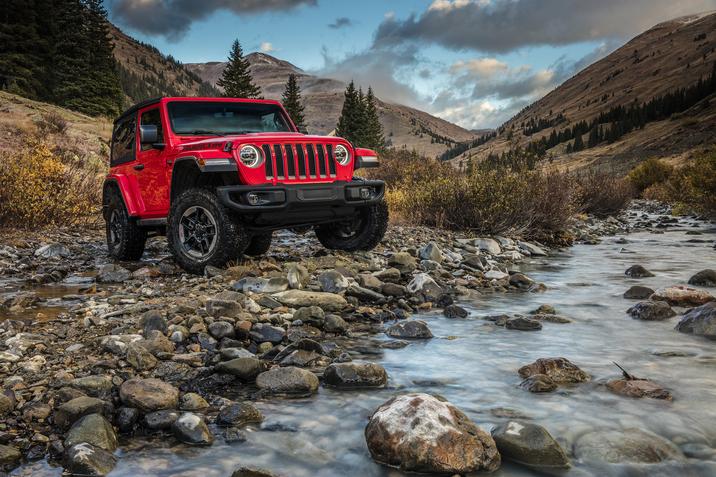 4x4 Jeep Basics
So, there's a lot of terms when you really get into 4-wheeling, and Jeep has its own terms for its systems to help you out. A common system you will see is the Selec-Terrain system, which makes it so you can adjust to differing conditions with the simple twist of a dial. The dial adapts elements automatically in areas like throttle control, traction control, Electronic Stability Control, transmission shifting, and the transfer case. A Full-Time 4x4 system utilizes either a center differential or a clutch to get both front and rear driveshafts to turn at alternating speeds and is great for snow-covered hills or boulders in the dirt. ALL-wheel Drive is similar, controlling power to all wheels at all times, and is meant primarily for on-road driving at higher speeds. Part-Time 4WD is also seen out there, and this means drivers can manually switch to front-wheel drive (from 4WD), to gain better fuel-efficiency in normal dry driving conditions. You may notice On-Demand 4WD systems as well, which automatically engages 4WD (from Front-wheel drive) if the vehicle senses a slippery surface. There's even more to discover depending on the type of Jeep you acquire, but it's safe to say you are in good hands with Jeep and their over 75 years of off-road design!
Trail-Rated
All 2018 Jeep Wranglers righteously proclaim the "Trail Rated" badge, which is really a standard for the 4x4 world spanning across several categories. Jeep sets a very high standard with their badge, and each vehicle that has it not only accomplish tasks and surmount obstacles but also consistently meet certain criteria.  Any Jeep 4x4 vehicle can have the badge, as long as it has passed certain tests. To earn the badge, a 4x4-setup vehicle must conquer a series of grueling tests over the toughest terrain with professional testers. These tests outline a vehicle's ability to withstand harsh conditions and attain incredible off-road capability. The 2018 Wrangler, for example, is option-able with three capable 4x4 systems, each created to meet particular off-road scenarios. Trail-rated badging has always had 5 categories that it checks each vehicle within: Traction, Articulation, Ground Clearance, Maneuverability, & Water Fording. It is a methodology to objectively quantify and ascertain off-road performance for all Jeep vehicles. Way back in the 1950s, Jeep owners tackled the 22-mile Rubicon Trail to Lake Tahoe, complete with boulders and similar level 10 obstacles, and thus the legend was born, directly influencing the creation of the Trail-Rated badge itself.
Trail-Rated Categories
Just so you know, Trail Rated badging can be had in the Wrangler, Grand Cherokee, Cherokee, Compass, and Renegade models generally. For the Water Fording category, this means that electrical connections and body openings are sealed, while the air intake is mounted higher. This makes diving through high water and splashy puddles much more possible than in other vehicles. Ground Clearance includes approach, breakover and departure angles being optimized for clearance between the bottom of the vehicle and the ground surface. Traction is key in general, but especially so when water gets mixed in, say, on a boat launch towing event, or when it sprinkles rain suddenly on your bouldering session. Traction also matters in sand and mud, something that makes most non-trail rated vehicles just go wherever. We need not mention snow to native New Yorkers, because obviously, a Trail Rated vehicle is your best option! Articulation is something that most non-off-roaders don't get at first, and that is something Jeep is out to remedy. Axle articulation is part of this, or how far the axle can move up and down relative to the chassis. The other aspect of Articulation is keeping tires on the surface equally. The more tires on the surface, the more torque can be applied successfully- getting you up and out of tricky obstacles better. And if all four tires are not on the ground, no worries, Jeep's 4x4 systems compensate and apply the torque to the remaining wheels automatically! If you want to see out JEEP inventory, by the way, read the rest of this then
click here
!
Jeep Clubs
Something not everyone new to the Jeep world knows is that each state has a local club listing of other Jeep owners that usually come together to ride on trips and attend other similar functions. This can include a membership but not always, depending on which one you are near. It is a great place to find out the general trails in your area, the club-only riding options available, and to ride with a group of experienced others who share your enthusiasm. Jeep Club members tend to be most aware of issues affecting trails and ensure that they put on their best face to preserve their environmental integrity and also maintain their access. Each club has a variable age range of members, overall group size, and event attendance schedule, so you will have to explore the ones near you to determine the best fit. You could also find out about them a little before joining by going to one of the several charity fundraising events Jeep Clubs tend to setup.
Jeep Clubs in the NY and NJ Area
If you go to JeepClubs.org you will be able to navigate which ones are for you, and there at about seven in New York and three in New Jersey. For example, there is "Jeeps & Cigars Club" on Long Island which mixes Jeep culture and cigars, coffee, or tea together. There is also the "Long Island Off Road Club" which has been around since 1993, or, if you are more into the mountains, there is the "Adirondack Jeeps" Club. Are you living in the Buffalo or Syracuse areas? Look into "Wicked Jeeps Western NY" Club as they cover that area and all the way to Ft. Drum. Over in Broome Tioga look for the monthly events of the "Southern Tier Off Road Club", while in the heart of NYC is the Queens-based "NYC Jeep Club". And, if you are like many residents, you live just above NYC and a smidge into Connecticut on I-95 or on I-84, then you may want to go with "The NE Jeep Organization", which is age 21 and over and began in 2004. Moving over to New Jersey for a moment, consider the "Mendez Jeep Club" in Newark, or the "Grass Roots Jeep Club" which is environmentally and family-oriented. If you have a license but no Jeep vehicle (yet), investigate the "New Jersey Jeep Association", which also does not require that you modify your Jeep in any way. Check these out anytime you like, that way you are not out there alone wondering if there is a better experience somewhere else!