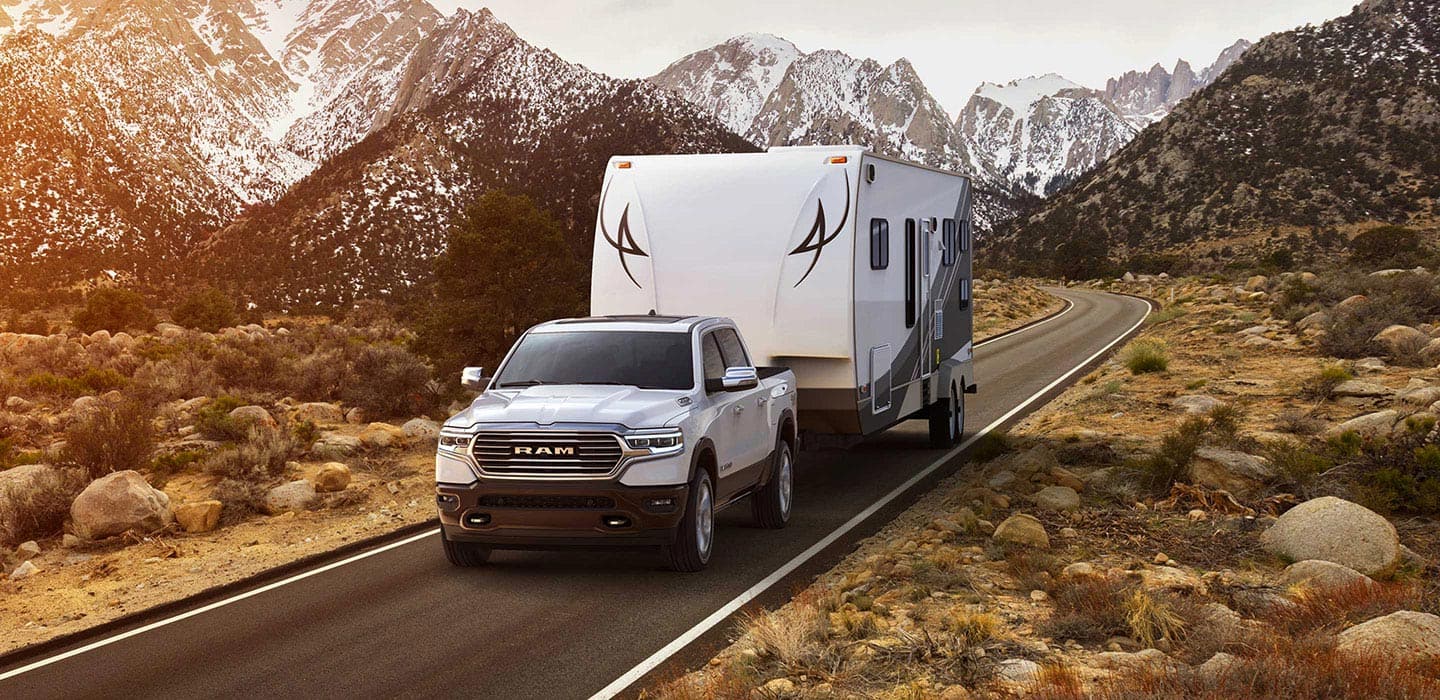 Truck Trend jurors are nothing if not thorough in deciding the top pick pickup of the year.  This annual tradition features a weeklong evaluation of supreme hauling, towing, maneuvering, and cruising of the top eight full size trucks of the market, amounting to over 1,300 miles of grueling performance tests.  The results are in; everyone was once again blown away by the great power and efficiency of the all-new 2019 Ram 1500, named the hands down Pickup Truck of the Year. Ram didn't go into engineering their remodel intending to only compete with the other dominating brands of the class, Ram intended to lead the future of full size pickups with brand new technologies and a level of luxury previously only seen in top-tier trims.  If you haven't seen what's new with the 2019 Ram 1500, you're definitely missing out.
The judges of Truck Trend were most impressed by the level of groundbreaking innovation that Ram had built into their new 1500.  From all new hauling and towing weights, to a level of interior competency to accommodate the many facets people demand out of modern trucks.  From family vehicles carrying anything from sports and weekend fun equipment, to cruising for hundreds of miles between jobs and providing an office space on the go, Ram knows that drivers demand a lot out of their trucks these days.  Thus, they've boosted the 1500's interior luxury with ergonomic and comfortable seats both front and rear with four extra cabin inches for a more substantial second-row legroom. Between the dual decker glovebox, remodeled 1.5 cu.ft center console bin that can easily hold a 15-inch laptop, under seat storage, and behind second-row storage, the 1500 has best-in-class interior storage spaciousness.  The hard-backed passenger seat even folds flat to provide an on-demand work surface or desk when you really need it!
Leading the no-compromising attitude of the 2019 Ram 1500 is the enhanced powertrains that go under the hood.  There's the standard 305 hp 3.6-liter V6 Pentastar (best-in-class V6 horsepower) or the available 395 hp 5.7-liter V8 HEMI, both upgraded with a mild hybrid eTorque system.  This allows the Ram to lead the market in fuel efficiency for its all-wheel drive configurations for both motors. The V6 delivers 19/24 mpg for a best-in-class driving range of 624 miles, and the V8 can generate up to 17/23 mpg for an unsurpassed 570 miles per tank.  This is also thanks to the reduction of overall weight that Ram has engineered for this new model. 1500s are now 225 pounds lighter than previous years thanks to lighter but more advanced high-strength steel frame engineering and aluminum body elements. But you most rely on a truck for its amazing strength to tow and haul!  You'll find 7,730-pound towing capabilities with every V6, and best-in-class 12,750-pound towing with HEMI equipped 1500s. Payloads can be up to 2,300 pounds, as well, definitely able to drive around all your equipment, materials, or tools wherever you go.
Here to top the market for the 2019 year and many more to come, the Ram 1500 delivers its drivers with superior modernity and power that critics and customers everywhere are loving.  These one of a kind technologies and luxury innovations have raised the bar of what a truck should be offering its drivers these days, going far beyond the utilitarian workhorse-only vehicle to give you a comfortable transporter of equipment and family alike.  Want to learn more about the all new 2019 Ram 1500? We have a full vehicle review that goes into greater depth describing all the standard features you'll find built within the cabin of the 1500. You can also check out our latest inventory to explore the seven available trims this truck comes in to find the one right for you!  Then, simply call us up to schedule a test drive, and our team will gladly have your exact chosen vehicle ready to try out on the road by the time you arrive.